OBS game capture black screen issue is very common, but it's solution easier than you think. Here are some fixes for this OBS black screen issue.
How To Fix OBS Game Capture Black Screen Issue on PC
You may have faced this situation: you open the OBS studio and are ready to record a game video, but during the preview and recording process, you can only see a black screen.
Don't worry, this is a common problem faced by many players, it means you are not the only one. In this article, you will see all the fixes of OBS black screen issue.
Fix 1: Run OBS as Administrator
Some features may be blocked by the windows that cause OBS game capture black screen with high integrity access the obs can make full use of its features won't be blocked by the programs.
Right Click on OBS icon, Run "administrator"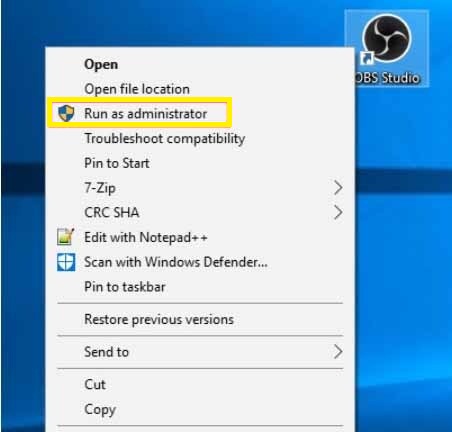 Check black screen mode is fixed or not, If your Problem is not Fixed then move on to another method.
Fix 2: Enable to Compatibility Mode
OBS game capture Black screen problem may be caused by a compatibility problem with the running apps. If there is a reason, you can enable OBS compatibility mode to resolve it.
Right-Click on the OBS icon and choose properties.
Under the compatibility tab, select Run this program in compatibility mode. Choose the system compatible with.
Click to apply>ok
Relaunched OBS to see if the OBS Game capture Black screen Problem is fixed or not. If not, move on to another fixes.
Fix 3: Switch OBS's GPU
If you have two graphic cards and one is NVIDIA try this solution for resolving your problem you want to record run on different graphics cards. Because they're on separate adapters, the image of the game cannot be acquired because it's not available on the device OBS is on.
1-Run Nvidia control panel and select Manage 3d settings, click program settings in the right panel click add.
2-Click Browse and navigate to OBS.exe. Right-click on the OBS icon and select "Open file location" to locate its path.
3-Choose a "High-Performance" NVIDIA processor and click apply.
4-Select NVIDIA control panel and restart OBS to see black screen problem is fixed or not.
Fix 4: Disable Game Mode and Game Bar
Game Mode is designed for gamers to enjoying the best gaming experience by allocating most RAM, GPU, and any other resources to games, a Game bar in Windows aims to help gamers capture video, screen shoot, Games play online, Xbox app quickly.
1-Go to start>setting>Gaming.
2-Under Game Mode, Switch off Use Game Mode
3-. Under Game Bar, switch off the option – Record game clips, screenshots, and broadcast using Game bar.
Run your game and check your issue OBS Game Capture Black screen error is fixed or not.
Fix 5: Uninstall and Reinstall OBS
If the above Fixes not work for you then try this last fix. Because it is likely your program files are corrupted and that's why you face OBS Game Captur Black Screen Issue
1-Search Control Panel In the Search box and enter control panel.
2-In Control Panel, find out Programs > Uninstall a program. You can View by Categories to locate items quickly.
3-Programs and Features window, pinpoint OBS Studio and right-click it to Uninstall it.
After completing this procedure, just reopen your game and enjoy it.
Conclusion:
Hope the above-given information helps you to resolve your problem OBS Game Capture Black Screen Issue. if you have any queries related to this article leave a comment below we will fix.
If you are facing startup issue on Rust game, then click here to see the fixes.