In this article, I'll show Fortnite FPS Boost. You've come to the correct place! It's pretty easy Just follow my instruction and you may play Fortnite with a smooth gaming experience.
Fortnite system Requirments (Minimum)
CPU Core i3 2.4 Ghz
RAM 4GB
OS Windows 7/8/10 64-bit
Video Card Intel HD 4000
Recommend System Requirment:
CPU Core i5 2.8 Ghz
RAM 8 GB
OS Windows 7/8/10
Video Card Nvidia GTX 660 or AMD Radeon HD 7870 equivalent DX11 GPU
Install the Latest Fornite Patch:
The developers of Fortnite release regular game patches to repair bugs. It's possible that your current patch include a low frame rate FPS, and Install the new Patch to fix your problem. You can follow the instructions below to test check for the latest Fortnite patch:
Run Epic Game Launcher.
On the left panel, click Library. Click on the gear button of Fortnite.
Turn on to Auto Update.
Restart your Epic Game Launcher.
If a patch is obtainable, it will be detected by the Epic Games Launcher latest Fortnite patch will be automatically downloaded and installed when you launch Fortnite.
Launched Fortnite again and check your FPS status, or if the game patch is not available then move on to the next fix.
Update your Graphics Driver:
The outdated or corrupted graphic card driver can be the cause FPS Boost Fortnite issue. You need to update them to the newest version.
You can update these drivers manually by going into the device manager. Here's how:
Press Windows + R key and type in "devmgmt.msc" to open device manager.
Double-click on Display adapters to expand the list.
Right-click on the graphics card and update it.
Run your Fortnite game and check your Problem is fix or not, If not then just progress to next.
Optimize your Graphics Card Settings:
Improve your graphics card settings is another necessary step to Boost FPS Fortnite. Just follow the steps below to modify your graphics card settings:
If you are using NVIDIA graphics card:
1-Press the Windows logo key and R at the same time. Then type control and press Enter to open Control Panel.
2-View Control panel by Large Icons.
3-Select NVIDIA Control Panel to Run.
4-Click 3D Settings and select Adjust image settings with preview. Then select Use my preference emphasizing and drag the slider to the left.
If you are using AMD graphic card:
1- Press the Windows logo key and R at the same time to open the Run dialog. Then type control and press Enter to open Control Panel.
2- View control panel Clicking on Large icon.
3- Select your AMD Radeon Settings to open it.
4- Go to Gaming > Global Settings. Then improve the settings.
I hope all these fixes help If not then try to move on to another method.
Set Fortnite to High Priority:
Try setting Fortnite to High priority in Task Manager to see if the FPS in Fortnite increases. Here is how to do it:
1-Run Fortnite.
2-Press ctrl, shift, Esc. to open Task Manager you will be prompted for Permission Click yes to open task Manager.
3-Navigate to the Detail tab. Right-click the process related to Fortnite (FortniteClient-Win64-Shipping.exe, FortniteClient-Win64-Shipping_EAC.exe, and FortniteLauncher.exe) and select High.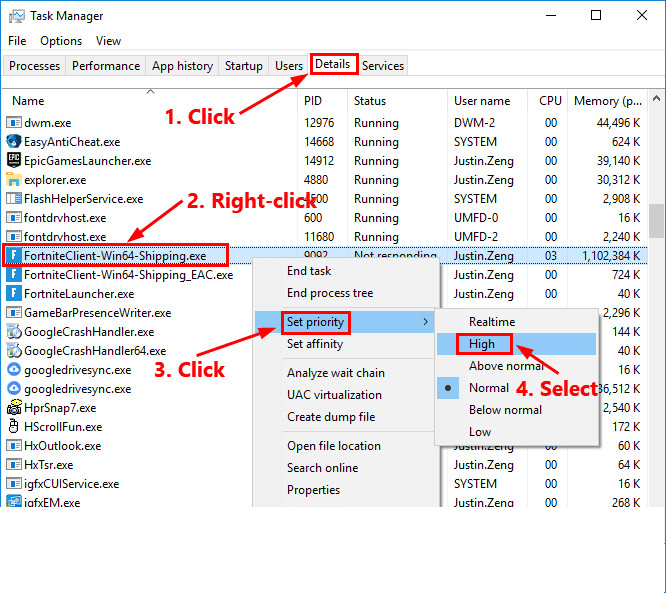 4- Launched Fortnite and check your problem FPS an increase or not.
Change the Power plan of your PC:
The FPS in Fortnite may drop if the power plan of your PC is Power Saver or Balanced. Most PC is build to Balanced, which may limit the operating capacity of your graphics card and CPU. To increase the FPS in the game, try changing the power plan of your PC to High performance. Here is how to do it:
1- Press the Windows logo key and R at the same time, then type powercfg.cpl and press Enter.
2- In the pop-up window, expand Hide additional plans and select High performance.
Launched Fortnite and see your FPS is improved or not.
NOTE:

Also read this article for

Fortnite Stuck on Loading Screen Issue on startup